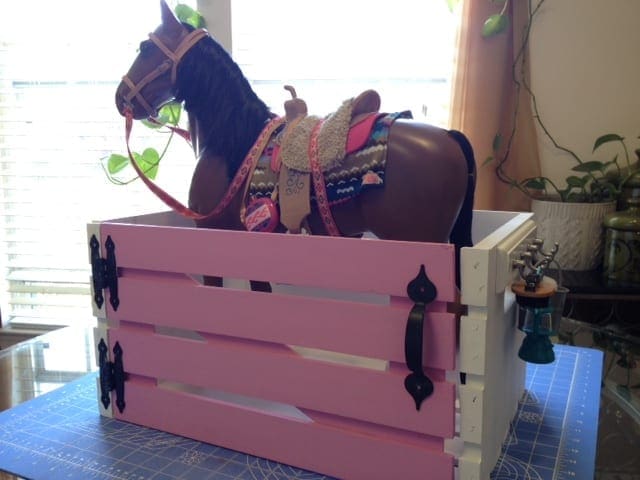 Once again, this started with Target!  They have a wonderful Our Generation Stable for the horses that is too adorable.  Unfortunately, it's also $80.
I've seen some great tutorials for DIY stables, but my woodworking skills are minimal, at best;)
Thank goodness for Dawn Alexander, for sharing her easy DIY project!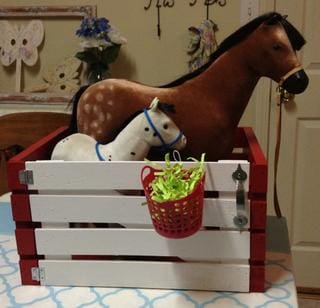 With her permission, I'll share the steps we used to recreate it!
You'll need:
Wooden Crate from local craft store- After 50% off coupon, it was about $8
2 Planks of Balsa Wood, also from craft store (about $2 each)
Craft Paint $1
Hinges $2.58
Door Handle $1.28
Small Saw
Sandpaper
Optional: Key Hooks for accessory storage
You can pick up the hinges, drawer pull (door handle), and key hooks at any hardware store.  We used Home Depot.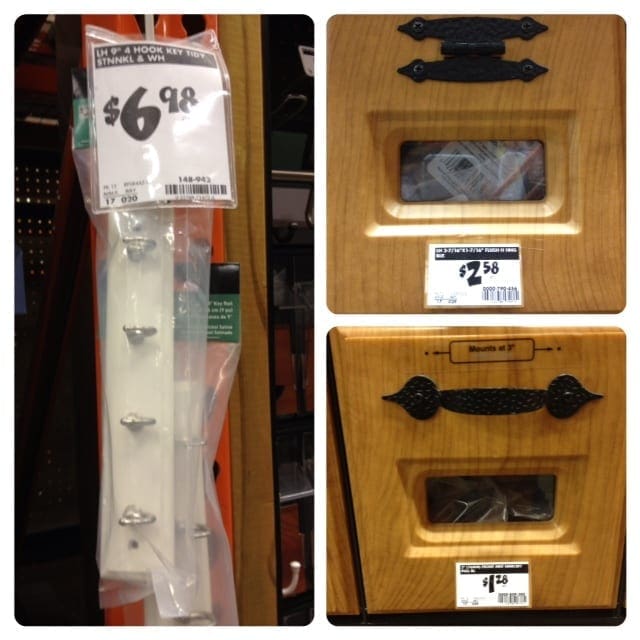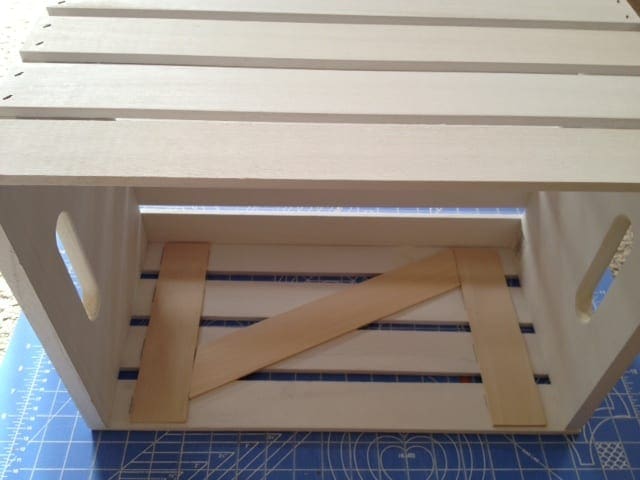 We started with a white crate, rather than the unfinished wood, to cut down on painting.  We turned the crate on its side and cut the balsa planks to make a sideways "Z" shape on the inside of one side.  I can't give you measurements because, seriously, we just kind of eyeballed it.  Just make sure you leave space on the sides for cutting, since this will be your door.  Glue these into place.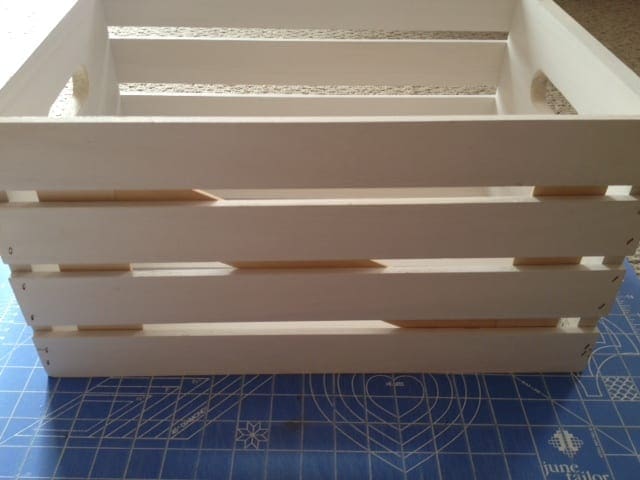 Once the planks dried (we put some heavy books on there to keep them in place) we cut the door off, leaving a bit of length on the remaining side boards.  We then sanded the edges down and painted the door on both sides.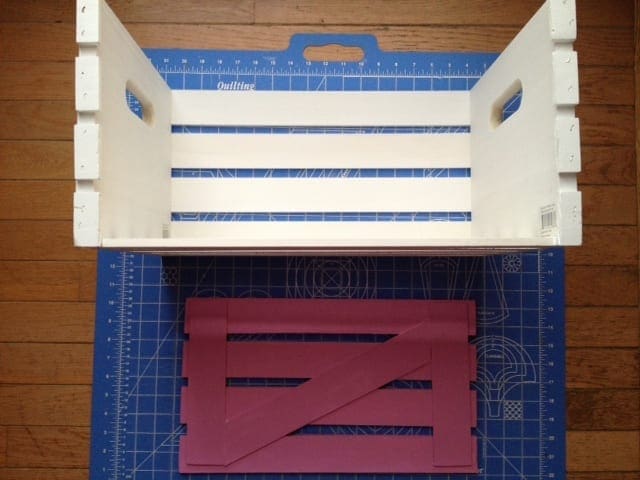 When everything was dry, we pulled out the trusty super glue to glue the hinges and door pull on.  I'm sure that you *could* screw these in, but the wood is pretty thin and we didn't want to try to find short enough screws.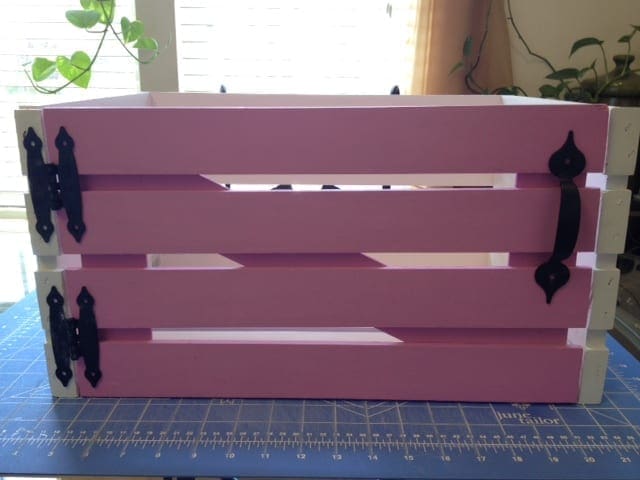 Finally, we added a key hook holder to one side, so that she would have somewhere to hang her accessories!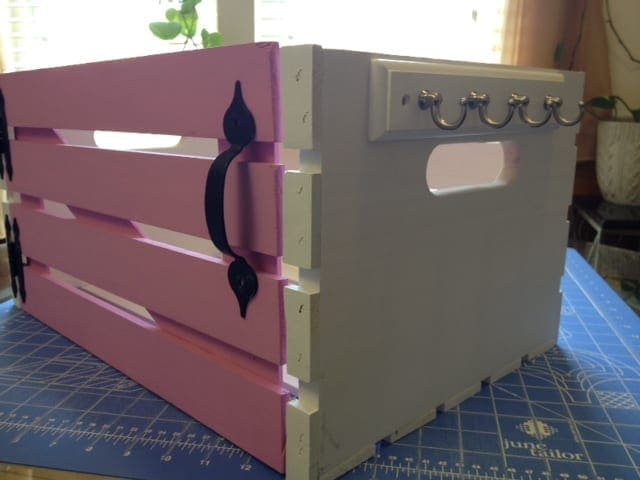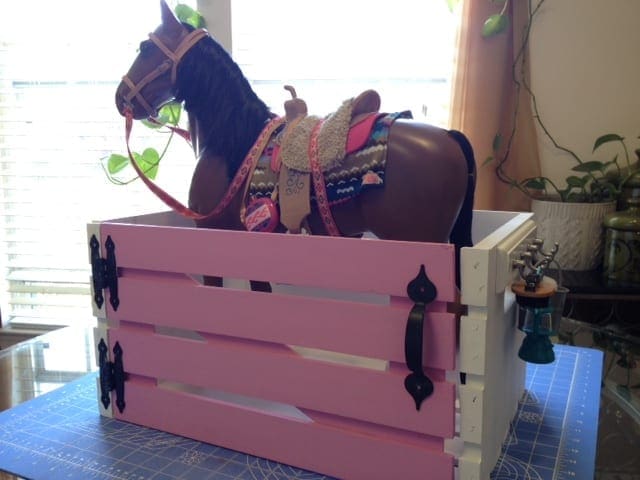 Stable is big enough to hold a full sized horse and a foal.
Feel free to ask any questions.
Once again, thanks to Dawn Alexander for sharing such a cool idea!