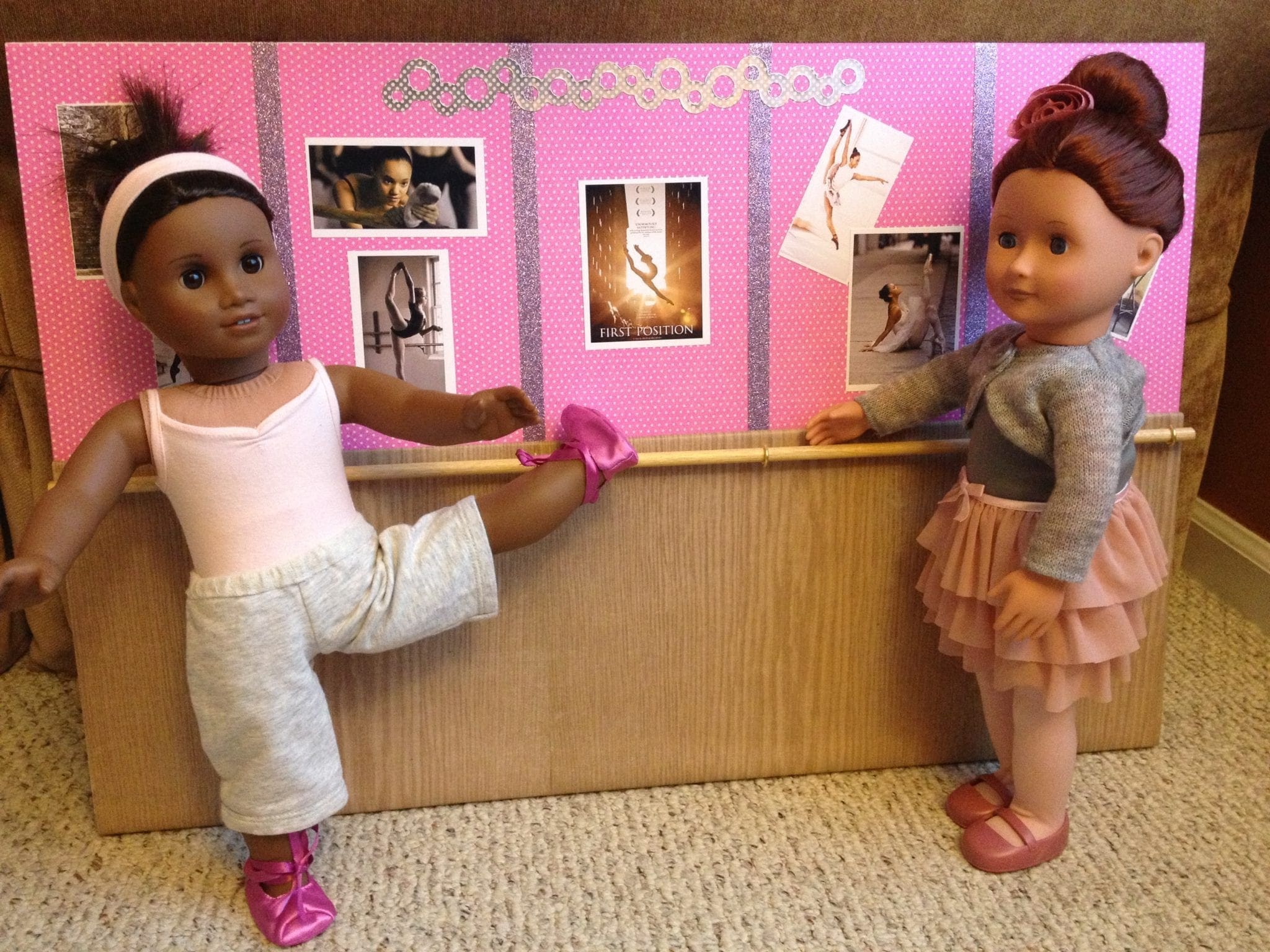 Do we love American Girl? Yes! Do we love dance? Absolutely! Am I shelling out $65 for an American Girl ballet barre? Um, not so much…
So, I was thrilled when I came across a Pinterest pin that led me to this amazing tutorial: http://www.livelifecreateart.blogspot.com/2012/12/doll-craft-creating-dance-studio-wbarre.html
Thank God for everyone who keeps the ideas flowing, so that no one loses their house over American Girl prices!!
I showed Cam and we were ready to get cracking.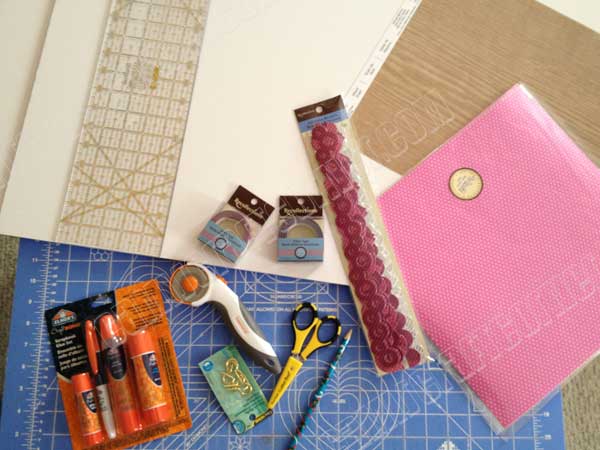 First stop Jo-Ann Fabrics. Our local Jo-Ann's is amazing. They accept as many different Jo-Ann coupons, plus competitor coupons as you want to use, as long as they have different barcodes.
They'll even take them off your smart phone! So, for:
(2) Foamboard $2.99
1 pack of tieback hooks $2.79
1 wood dowel (3/8 inch x 36 inch) .99
Scrapbook glue set $6.99
Scrapbook paper (generally about .50 a sheet)
And random Clearance embellishments
After numerous 40-50% coupons and clearance prices, we spent less than $15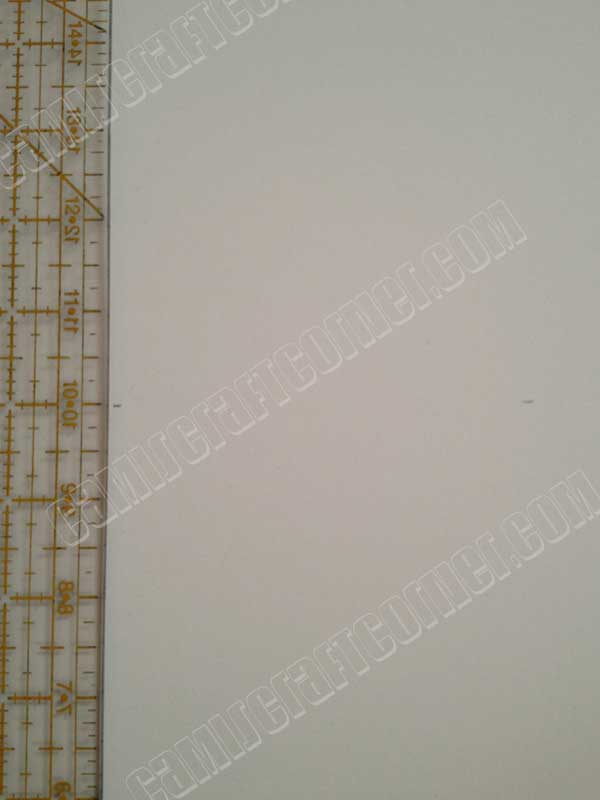 The first thing I did was to cut one foamboard in half, lengthwise. The boards we found were 20 x 30, so I marked little lines across one board, lengthwise at 10 inches wide (to make sure that I would keep a straight cut)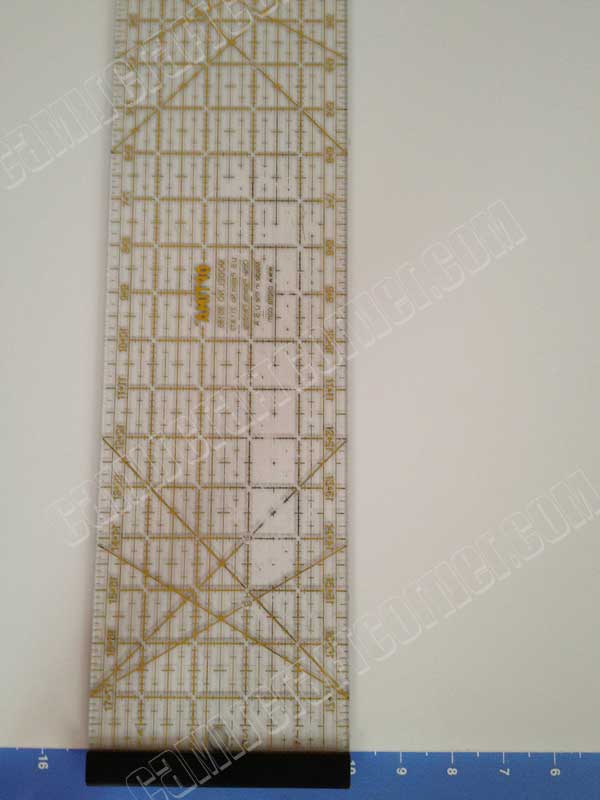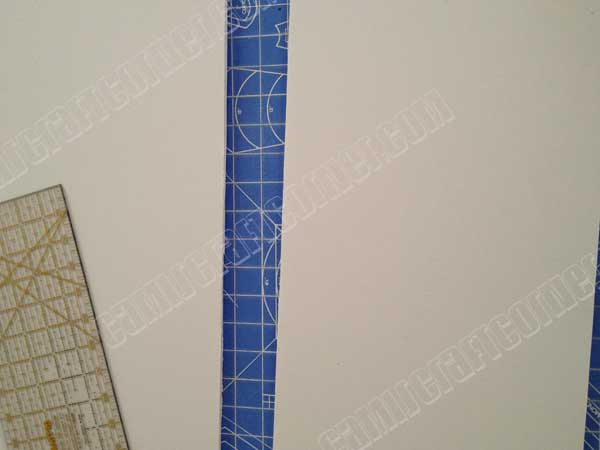 Then, using the clear guide, I took the rotary cutter and cut the board in half. *Top Wallpaper* I put those pieces aside and pulled out the whole board.
We used 2.5 of the pieces of scrapbook paper to make the top wallpaper. Make sure to use scrapbook or photo safe glue! You can see that it's not as straight as it could be, but we'll be decorating to cover it.
Next, I put that aside and pulled out the dowel. You do not have to varnish the dowel, but because I happen to have some handy and I wanted it a bit more shiny, I decided to clear coat. So…I painted down to about 2 inches that I could hold onto while it dried. Then I spent 30 minutes, waving it around and watching Dallas Cowboys: Making the Team, because, hey, why not? It's amusing…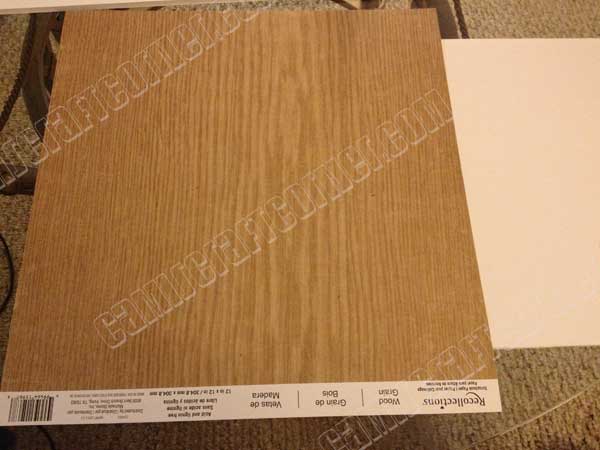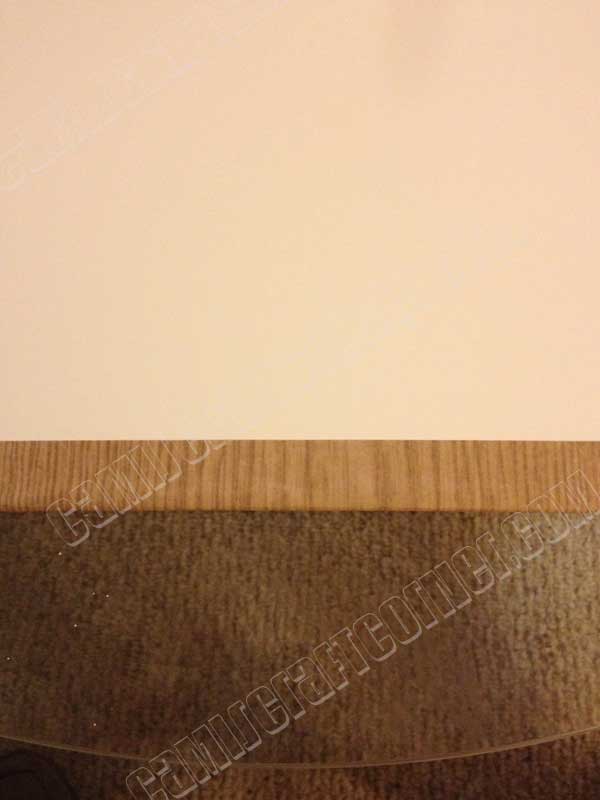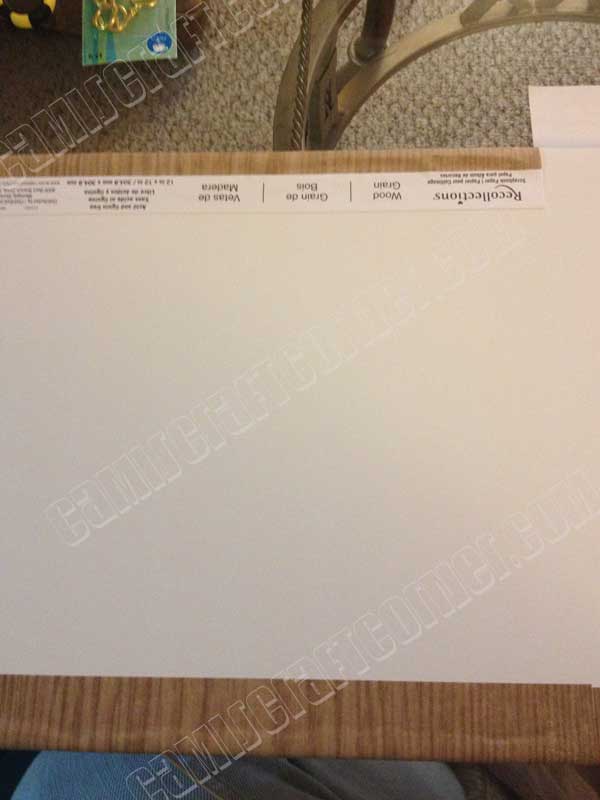 Anyway, when that was done, I went back to one of the cut halves. I covered one in a contrasting paper (wood grain, for a more realistic look).
I deliberately left it wider than the strip of board so that I could fold it over to 1. Make it more secure, and 2. Cover the visible cut edge of the board.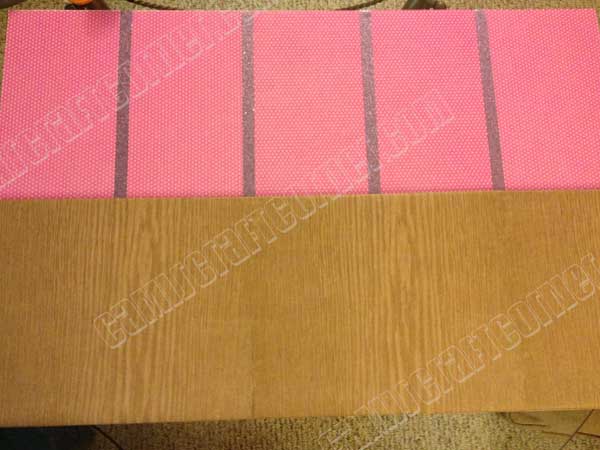 After that, it was time to attach to the larger piece. I paused to add glitter tape strips, since that was part of the decoration we wanted.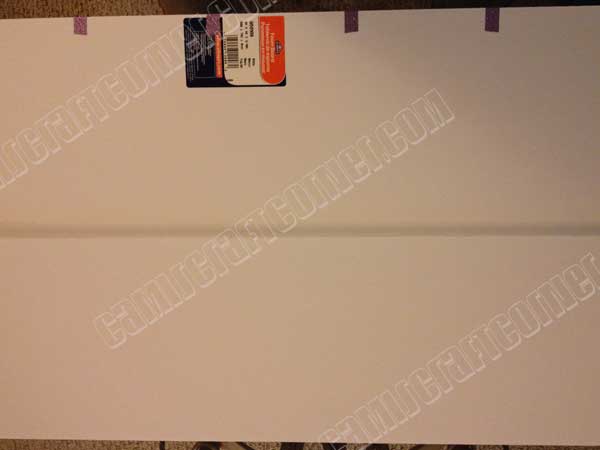 After securing the boards together (again with scrapbook glue), I added the other cut piece to the back side (so that the bottom of the wall is actually 3 boards thick) Leave this alone to dry for a while (add some heavy books to keep it tight).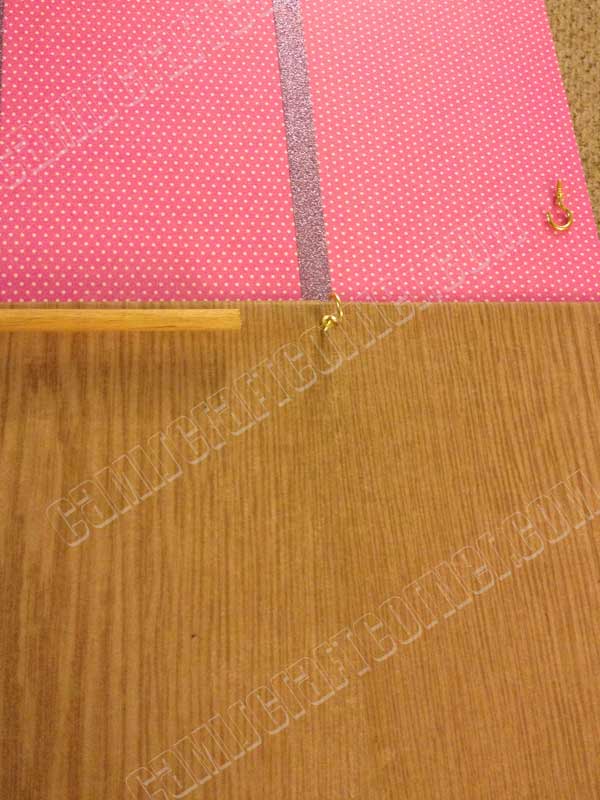 Later, measure up how high you want your barre, then use a ruler to make sure that you keep the marks even with each other. Screw in the tiebacks, then slide your barre through. I slid the barre through each tieback after I put them in, so that it wouldn't be too difficult if any of the hooks were slightly off.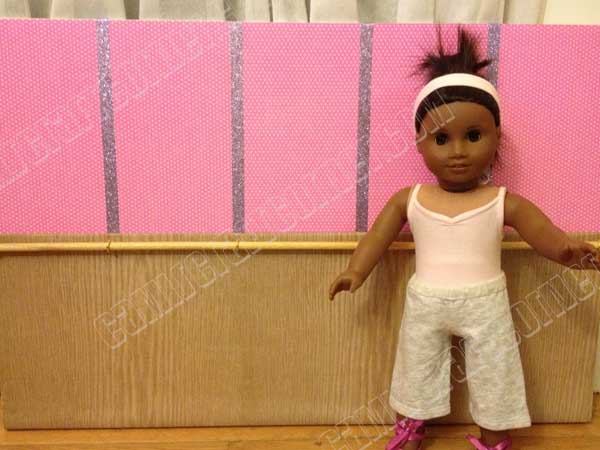 Voila! You're done the hard(ish) parts and you can start decorating! We used pins from our Dance/Gymnastics Pinterest board and sized them to around 2×4 .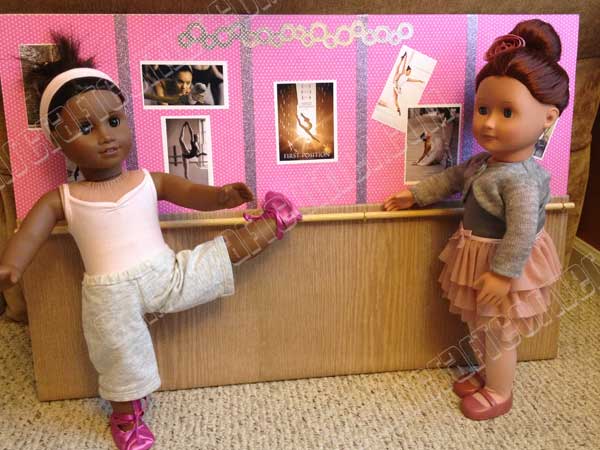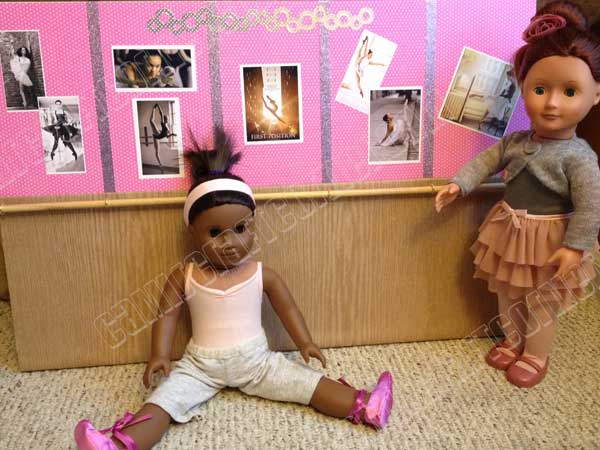 Once again, I got the idea from: http://www.livelifecreateart.blogspot.com/2012/12/doll-craft-creating-dance-studio-wbarre.html This is just my take on it; she deserves the credit for thinking it up!